I made a delicious old fashioned tuna casserole last night but I usually make it low fat, Well as low fat as it can be with 2 cups of grated low fat cheese ( I would never use fat free because it does not melt right ). Last night I had an attack of lets have COMFORT FOOD tonight so I got busy...
I also got a nice email from a fan of the website who was awaiting my slow but to post some more (and hear I thought no one cared)! Thanks Julie for the nice thoughts. It made me feel like I was not so alone here on the web.
My knee is slowly healing. I do not know WHY it is so slowly healing and my Doctor is no help at all. He says I am doing fine. Keep up the good work. No ONE told me the pain and leg fatigue would continue into the 7th month after surgery. I think Iam ok and I try to do some work (this morning I started to clean out my clothing disaster of a closet.) I had vacuumed and was vacuuming the bedroom when my entire leg started to cramp heavily and my foot. The pain shot up my leg.
I sat down on my bedroom chair, and just held my leg and tried not to cry! Then slowly I started to rub my knee then my calf and my foot. At this point I found some arnica gel in my bedside table and started to apply it to my leg and took a CVS leg cramp pill. My husband came in with a dill pickle in juice in a red bowl ( dill pickles and their juice help leg cramps!). I sat and ate the pickle
\and lapped up the juice thanking Owen for the treat. Maybe a repayment for the Lemon scones I
made him for breakfast this morning... No Owen is a great person... I love my hubby. We are thankful for each other everyday.

And here I am now posting for you all. I have been making this recipe since the 1970's. Originally it was from the Betty Crocker Cookbook, but I have changed it over time and it is my own now.
Old Fashioned Tuna Casserole
Turn on oven to 375 degrees
Ingredients
large egg noodles or whatever bigger pasta you have on hand (2 cps)
2 cups shredded cheese ( we like a mix heavy on sharp )

1/2 cup

mayonnaise




1 -2 cans the best kind of tuna you can afford! I always use albacore.



First Cook noodles till al dente' ( almost done ) add peas to water and return to a boil then drain the lot. set aside covered.
Mix the tuna and the mayonnaise in the casserole dish then add the noodle/pea mixture stir again and set aside.
Mix cream of mushroom soup and milk or milk substitute with whip so blended well and heat. When heated slowly add the grated cheese to make a cheese sauce like below....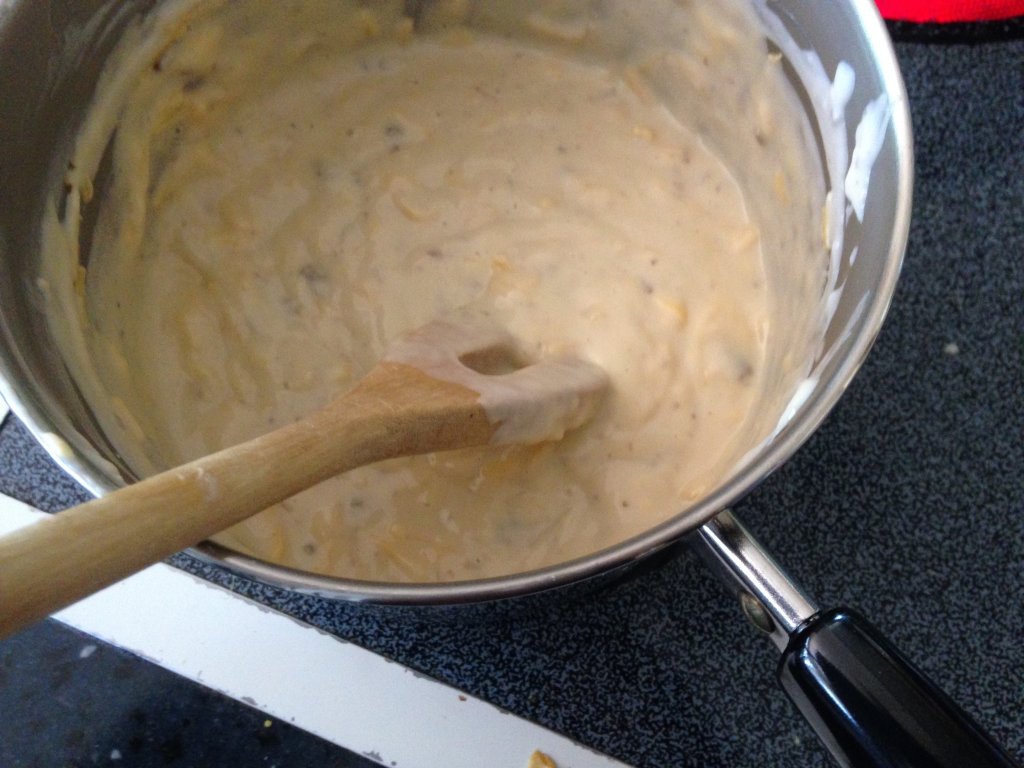 Next take this lovely cheesy sauce and pour it into the tuna, noodle mixture in your casserole dish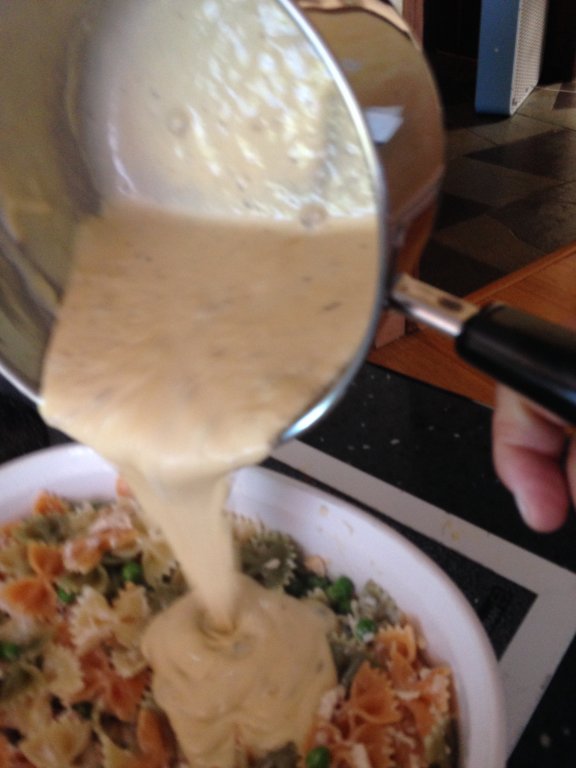 I KNOW I used bow ties. I said it doesn't matter what pasta you use as long as it is big enough. Challenge with bow ties is when to take them off. Don't want them overdone! Now mix this up good and top with the potato chips and BAKE at 375 for 20-25 minutes. Delish.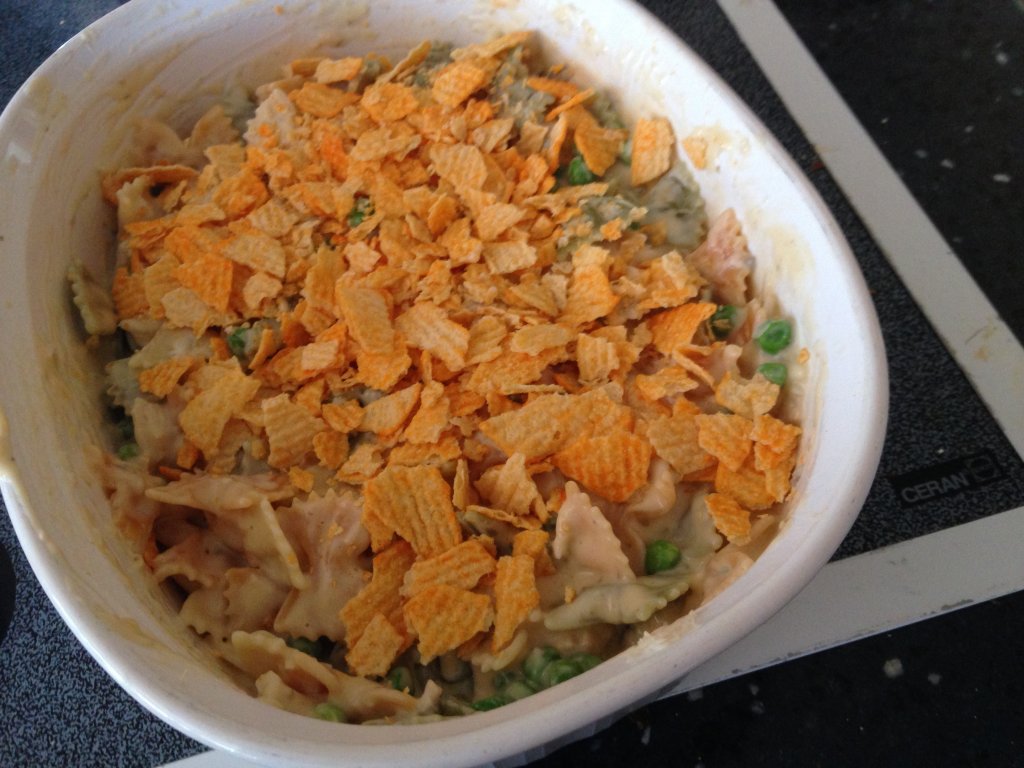 This is not done yet... bake it!
I served it with a nice fresh romaine salad from my neighborhood farmer, added golden beets and tomatoes and a yummy vinaigrette and it was superb!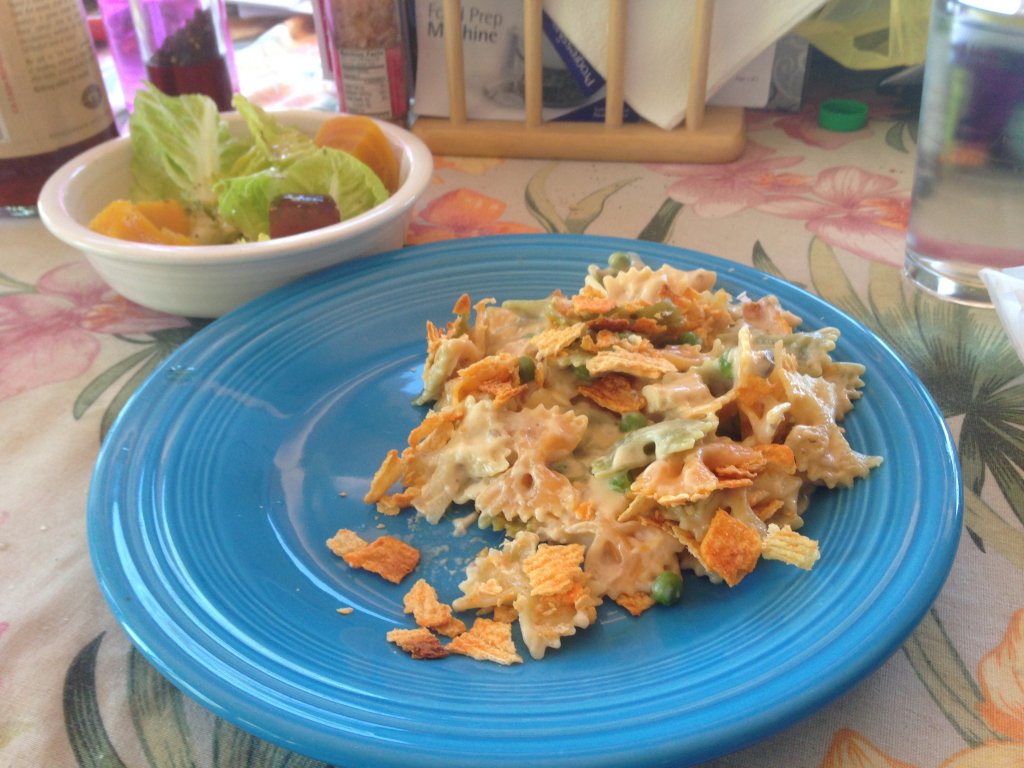 Have a great Fourth of July.Stay Safe!